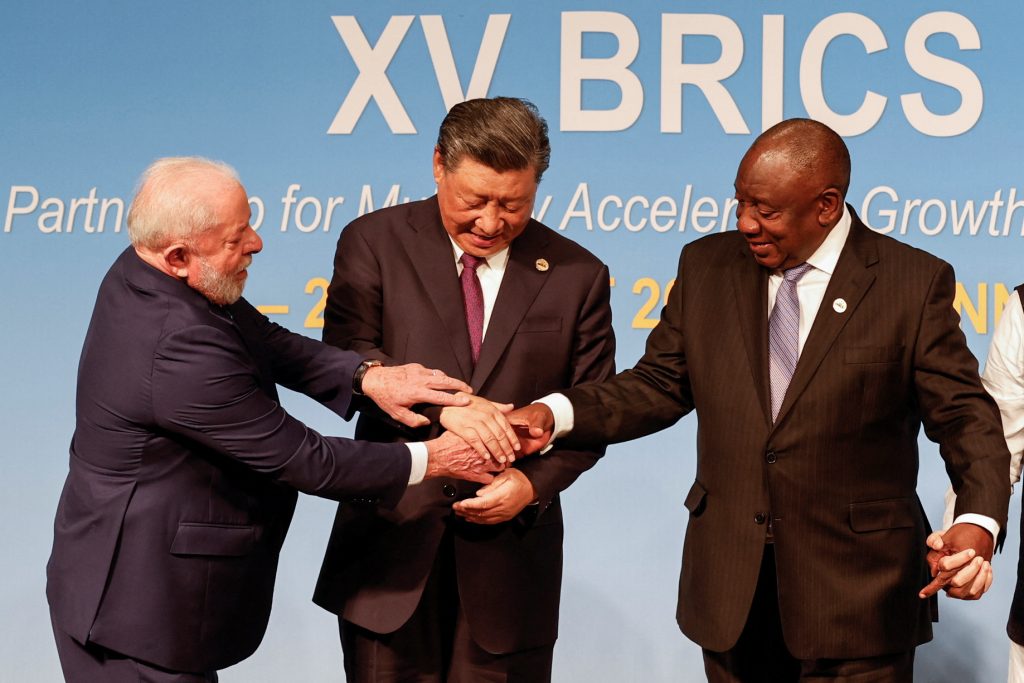 By: Théo de Sá-Kaye, 3L
Since winning last year's presidential election, Luiz Inácio "Lula" da Silva has made his diplomatic ambitions for Brazil crystal clear. In November, before assuming the presidency, Lula made an impromptu trip to the COP27 summit in Egypt, vowing to protect the Amazon. In August, he traveled to Africa, stopping by Angola, São Tomé & Príncipe, and, most notably, the BRICS summit in Johannesburg, where the growing economic bloc agreed to welcome new member states. In early September, Lula jetted off again, this time to India for the G20 summit.
Lula's busy diplomatic agenda marks a stark shift from his predecessor, Jair Bolsonaro. The latter had gained notoriety for his anti-environmental rhetoric, such as advocating for scaling back protections on Brazil's rainforests and indigenous territories, as well as his rejection of the approach taken by most of the world to fighting the Coronavirus pandemic, in which he urged his population to disobey stay-at-home orders and forgo vaccination. Bolsonaro's trips abroad were few and far between, and his open praising of populist politicians around the globe earned him the sobriquet,"Trump of the Tropics."
It is no surprise, then, that one of Lula's main campaign platforms was to restore Brazil's respect abroad and reintegrate the country into the international community. However, Lula has not only embraced the West; he has also fostered closer ties with nations at odds with Western leaders, complicating Brazil's diplomatic renaissance. Within the first three months of his presidency, Lula sent a delegation to Venezuela, refused to sign a United Nations resolution condemning Nicaragua's human rights abuses, allowed Iranian warships to dock in Rio de Janeiro, and publicly insistedthat both Ukraine and Russia are equally responsible for the current war. Each of these acts drew condemnation from Western countries, with some commentators accusing Lula of "cozying up to America's enemies."
While these actions have caused consternation in the U.S. and Europe, they are anything but new: Brazil has a longstanding tradition of multilateralism and non-alignment regarding foreign affairs. Rooted in its 1988 constitution,Brazil's foreign policy rests on principles of non-intervention, self-determination, international cooperation and the peaceful settlement of conflicts. On this point, Bolsonaro and Lula remain aligned. Both presidents refused to condemn Russia for its actions against Ukraine and to send weapons to the invaded nation, citing neutrality and non-alignment.
Lula's rapid rapprochement with authoritarian regimes around the globe can also be viewed in light of Brazil's economic position. China, for example, surpassed the U.S. to become Brazil's biggest trading partner in 2009, and remains so today. Brazil's purchases from Russia increased by 89% in January to April 2022 compared with the year before, and Russia is now its fifth-largest exporting partner, in contrast to its status as an economic and political pariah to the U.S. and Europe.
Most recently, at the G-20 conference, Lula announced that if Russian President Vladimir V. Putin attended next year's conference in Brazil, he would not be at risk of arrest, even though the International Criminal Court, of which Brazil is a signatory, has issued an arrest warrant. After his comments drew criticism, Lula backtracked, saying that Putin would indeed "face issues" if he went to Brazil. Later, Lula admitted that he "didn't even know about the ICC's existence," much less Brazil's membership. Flávio Dino, Brazil's Minister of Justice, is now openly considering withdrawing Brazil from the ICC, arguing that if the U.S. is not a signatory, Brazil shouldn't be, either.
Maintaining amicable ties with its trading partners and increasing cooperation in the Global South is certainly in Brazil's economic interest. However, so are Brazil's political and economic relations with its Western counterparts. Lula will have to perform a delicate balancing act for the remainder of his presidency if he wants to successfully nurture both of these crucial priorities and establish himself as a true global leader.