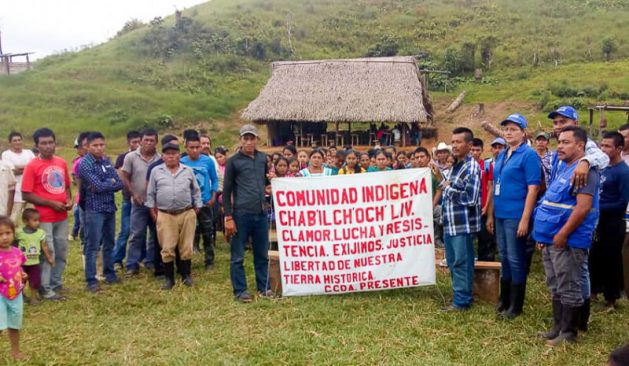 By Melany J. Danielson, 2L
On February 9, 2022, the Inter-American Court of Human Rights ("IACHR") heard arguments from the Agua Calienta community, a Maya Q'eqchi' Indigenous group in Guatemala, that claims the Guatemalan government failed to guarantee them legal rights to their ancestral lands—with final arguments presented on March 11, 2022.
Agua Caliente is one of sixteen Maya Q'eqchi' communities in El Estor municipality in Guatemala that has been forced off their land by mining operations since the 1960s. An open-pit nickel mine, owned and operated by a Switzerland-based investment company, sits right on the Indigenous community's land near Lake Izabal, the largest source of fresh water in the country. The Maya Q'eqchi' have called for the closure of the nickel mine for decades because the mine is destroying the area's natural resources—including the surrounding water, air, and soil. Since 2002, Agua Caliente has been trying to obtain a collective land title to control their ancestral lands to prevent further deterioration but were denied title by the Guatemalan government despite meeting all the requirements. To make matters worse, the increased production of electric vehicles may further ignite disputes over the area because nickel is an essential raw material necessary for battery function. In 2021, for example, the Guatemalan government persecuted activists and even imposed martial law to protect the operations of the nickel processing plan.
Agua Caliente is not only asking the IACHR to grant legal title to the land but is seeking a ruling on whether governments should act to recognize permanent sovereignty of Indigenous communities over their natural resources. Under the United Nations Declaration on the Rights of Indigenous Peoples, governments must consult Indigenous communities on projects affecting their lands and gain informed consent—but the Maya Q'eqchi' was not adequately consulted on the nickel mining project that was granted to the extractive companies by the Guatemalan government.
This case follows the ruling from Ecuador's highest court, the Constitutional Court, on February 4, 2022, that recognized the rights of Indigenous communities to be consulted before any extractive activity is planned on or near their territory with the purpose of obtaining consent from that community. Although the final decision by the IACHR may not come out for several months, a victory could set an important precedent that goes beyond mere consultation but would recognize the right of Indigenous communities around the Americas to manage their own natural resources.